4 great reasons to
buy from US :
These awesome lights make the atmosphere in any car amazing! Simply plug into your cigarette lighter/12v socket and pick your color! Adjust these lights to the sound of your music, or just use them normally. These lights will make any car the life of the party!
 4 LED Light Strips


 9 LEDs in Each Strips

 Includes Easy Control Remote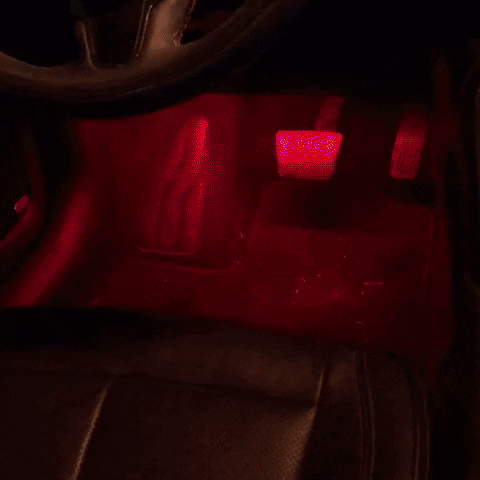 1. Car Atmosphere Lights---high quality PVC rubber, flexible, UV and water resistant.
Can be used in cars, trucks, SUV, vans and all decorative car lighting applications.
Perfect enhancements not only to upgrade your car, but also to increase the safety
of driving during the day and night;
2. Sound-activated ----Allow you enjoying the fun with the color changing following your
car stereo music rhythm as well as your voice. To bring you wonderful driving pleasure,
so that even in the car you can feel the atmosphere you want.
You can also make your car in front of friends more shining, more attractive eye;
3. Wireless IR remote----change the color as you wish;
4. Easy to Install and Use----Assemble the strip light first, then peel the back
5. Quality -Waterproof, environmental protection, low power consumption,
high brightness, anti-static, anti-aging. No worry about the quality,
while it will make your precious car always looks glorious and awesome.
Reviews
 Manish Kumar
easy to install, looks cool. Recommended
 

Verified Purchase
Posted 2 months ago. Owned for 31 weeks when reviewed.
So easy to set up! Usb powered, able to discreetly hide all wires. 3m adhesion tape. Bright, music mode is great too
 Raju Kumar
 Nice LED Light
 

Verified Purchase 
Posted 1 months ago. Owned for 3 weeks when reviewed.
I have used a long string that all over the car but sometimes gets my way as the it is a single string. This LED strip is nice, it has four separate cables each end with a separate LED strip. also, the lights can be sound controlled. depending on the sound, I can change the LED brightness and color
I recommend this product to a friend or family member.
 Bipul Kumar
Amazing
 

Verified Purchase
Posted 3 months ago. Owned for 1 weeks when reviewed.
Lights are nice feel like good quality, bendy so it can curve. Pretty easy to set up just depends on clean you want it to look and if you wanna tuck and hide wires like i did. Tricky part is leaving the control box close so it can receive the signal. Set these up in my xrunner and they look sick. Note that two strips are longer for backseats.
 Akash Kumar
Great product!
 

Verified Purchase
Posted 6 months ago. Owned for 3 weeks when reviewed.
These lights really do light up the inside of my truck well, just right!
 Rohit Kumar
Love the lights!!!! Great product!
 

Verified Purchase
Posted 4 months ago. Owned for 2 weeks when reviewed.
I bought these for my son. He is in love with them. The colors are amazing and they are very easy to install. He said he likes the remote because he can change colors or turn them off or on with a button. He's 18 and says they are awesome!